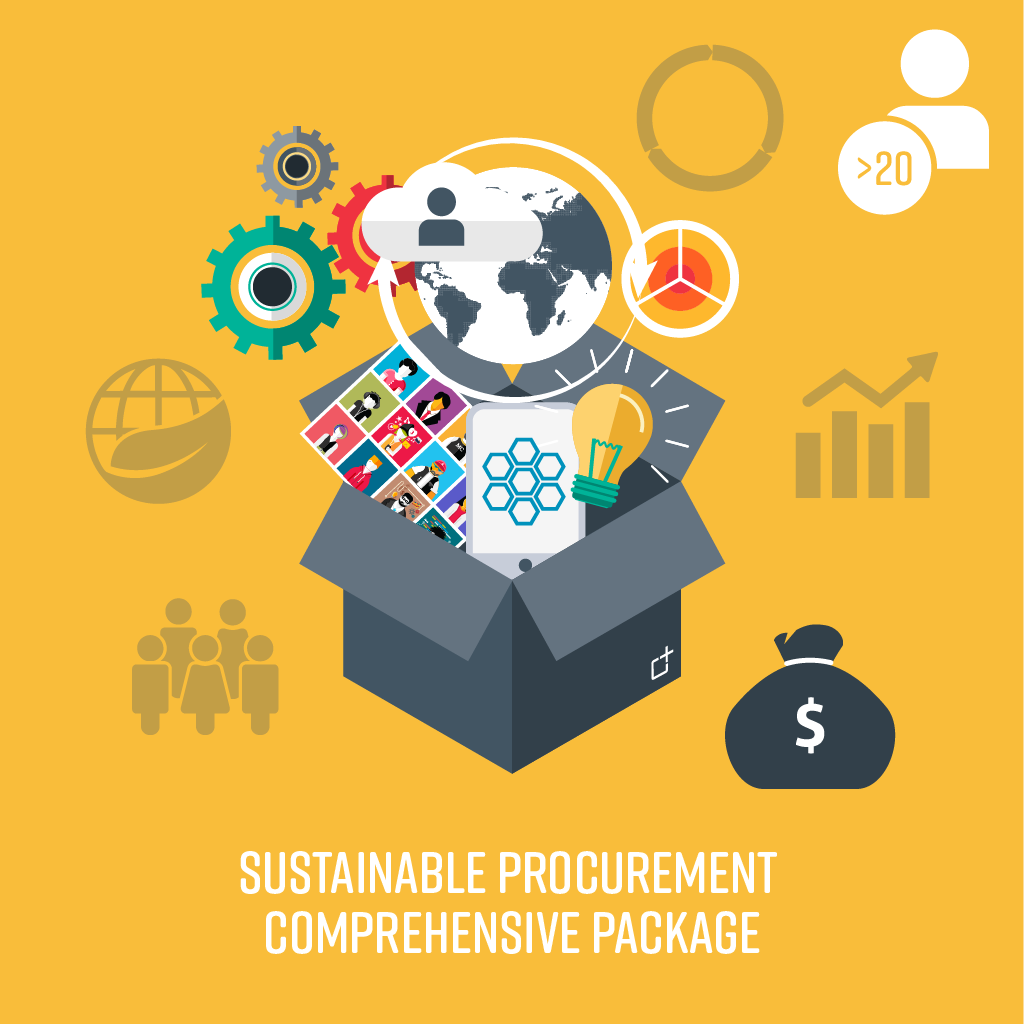 Sustainable Procurement Comprehensive Package
Regular price
Variable pricing
Please click here to contact us for pricing.
Our Sustainable Procurement packages are ideal for any organization seeking to develop Sustainable Procurement approaches and enable and equip the organization to identify where to focus efforts. They can then help to determine and put in place new sustainable sourcing arrangements for priorities in terms of key areas of spend with important suppliers and in your supply chains.
Two packages are available – the first is for organizations already practicing strategic procurement using 5i® Category Management and 5S/5A Supplier Relationship Management where Sustainable Procurement can be embedded into these approaches. The second package is for organizations starting out with strategic procurement.

Sustainable Procurement Accelerator Package
The Sustainable Procurement Comprehensive Package includes everything you need to mobilize and implement Sustainable Procurement, together with key strategic procurement approaches.
The package includes:
Advanced 5i® Category Management and Advanced Supplier Relationship Management training course with Sustainability (live, online, instructor-led or classroom delivery) for up to 20 delegates
Advanced Sustainable Procurement training course (live, online, instructor-led or classroom delivery) for up to 20 delegates
Sustainable Procurement - Awareness training course (live, online, instructor-led or classroom delivery) for senior individuals and/or up to 20 delegates
Two x Sustainable Procurement mobilization workshops to agree key Sustainable Procurement objectives and goals, initial priorities, roadmap and governance
One year subscription to Procleus® - strategic procurement toolkit, workflow and academy, for 20 users
Note: Standard Terms and Conditions apply to all licenses and training courses
*Fees include mailing within the UK, EU or US. Additional mailing fees may apply outside of these territories.
Please note: The above prices are quoted exclusive of Value Added Tax (VAT) and may be subject to UK VAT, or the local equivalent in the customer's country of purchase, at the prevailing rate, dependent on the status of the customer (B2B or B2C) and the nature of the products being purchased. If you are a B2B customer for our services in the RoW you may find that you need to account for VAT in your country under the reverse charge mechanism.
---
Share this Product
---
More from this collection